Ariel photograph of Fort George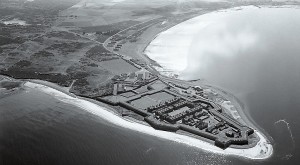 Ariel photograph of Fort George – possibly taken sometime in 1950s.
This shows the Married Quarters outside the Fort George – Blocks A to J, Officers houses in the wood as well as billets surrounding the now visitor car park.  Latterly before the huts were removed they were used by the Territorial Army and Cadets for summer camps.  The cook house was on the other side of the road along with the NAAFI shop and some other small buildings including the Dentist.
Outside the main entrance there used to be the MT (Mechanical Transport) which is now the car parking area for staff and troops.  The piggery was along the road from the MT and the 'point' being a good fishing spot for many keen anglers.
As you make your way from the now visitors car park, before you cross the first bridge, to your left is where the hospital used to be where many children were delivered by the local Doctor from Ardersier.
The building where you pay to visit Fort George was once the guardhouse but when we were children it was used as the wives club where whist drives etc were held as well as Halloween and Christmas parties.
Before crossing the main bridge, the moat below had an assault course and .22 shooting range.  There was also a cinema in the Fort and many dances held in the gymnasium which the locals also attended.  The indoor shooting range was often used by the cadets.
All buildings outside the Fort have been demolished as well as many 'add on' buildings inside the Fort, including the indoor shooting range and cinema.