Book Review – Joseph Gray's Camouflage: A Memoir of Art, Love and Deception
Joseph Gray's Camouflage: A Memoir of Art, Love and Deception. 
Mary Horlock Unbound, pp.340,
It is purely a coincidence, b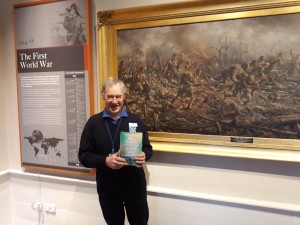 ut since I received this book to review, the hall of the Highlander's Museum has been reordered, and Joseph Gray's  magnificent "6th Battalion The Queen's Own Cameron Highlanders at the Battle of Loos, 26 September 1915" hangs accusingly across the corridor from my work station.
I write reviews of books which might be of interest to people who have some kind of connection with the Regiments which are commemorated in the Highlands's Museum. If you are wanting a book which increases your knowledge of the Regiments, this is not for you. While three of Gray's greatest paintings are in the museum, they are unmentioned in the book. What we do however get is a loving description of how Gray would have worked with a realism in his war pictures, second to none. It is only when we think about the great pictures that we understand that actually, they were peripheral to Gray's life.  While there doesn't seem to be a pubic index of his work, on the Art UK site there are 6 of the massive war pictures, which were painted between 1918 and 1922. As the book says explaining Gray's change of direction after 1922. "The signs were already there…. Ex-soldiers begging on street corners … it was going to be hard to make a living at all, let alone make a living as an artist…… Joseph Gray didn't want to be a war artist anymore; he wanted instead to be an etcher of landscapes".
"Joseph Gray's Camouflage" is a much more complex book than an account of the military pictures, impressive through they are, which Gray painted. After his time as effectively a portrait painter, Gray moved on to being an etcher. It was the meeting of his experiences in the War, and his artistic understanding in Camouflage which became his passion. He wrote Camouflage and Air Defence. Which remains unpublished locked in a file in the Imperial War Museum, but was greatly influential in how Camouflage would develop.
There was however more than Camouflage which  met his passion. The subtitle of the book is "A Memoir of Art, Love and Deception" Gray acquired another passion which was not his wife, and part of the story is how this relationship was sustained.
Eventually with the coming of the War in 1939, the writing which Gray had done on Camouflage with the Royal Engineers and Signals Board, received its reward when he was commissioned as a major, and continued in his work which included the development of a new material for Camouflage, wire wool.
The development of Camouflage is discussed in the book, set against the obscure development of Gray's relationship with his new love. Unfortunately there was a time in his post war life when Gray was again disappointed when his reward for the development of wire wool as a camouflage material was much less than he expected.
Mary Horlock has written a beautiful tribute to her Great grandfather. It has brought him to life and is an interesting  book at so many levels. The experience of the post World War One generation. The development but ultimately the failure to receive the recognition which he deserved, of an extremely talented artist. The Gentleman who was careful to look after the interests of the woman whom he no longer loved. All this is recounted with a sure grasp of the topic with love and respect.