Hiring the Blue Hackle Rooms and Regimental Chapel
The Blue Hackle Rooms at the Highlanders' Museum (Queen's Own Highlanders Collection)offer a unique location for weddings, functions, parties, lunches, meetings and corporate hospitality in the heart of the Highlands.
The Blue Hackle Rooms are situated on the second floor of the Museum and have stunning views across Fort George and the Moray Firth with the chance to see Dolphins, Orca, Minky Whales and seals.
There are two rooms available for hire – the dining room and the board room.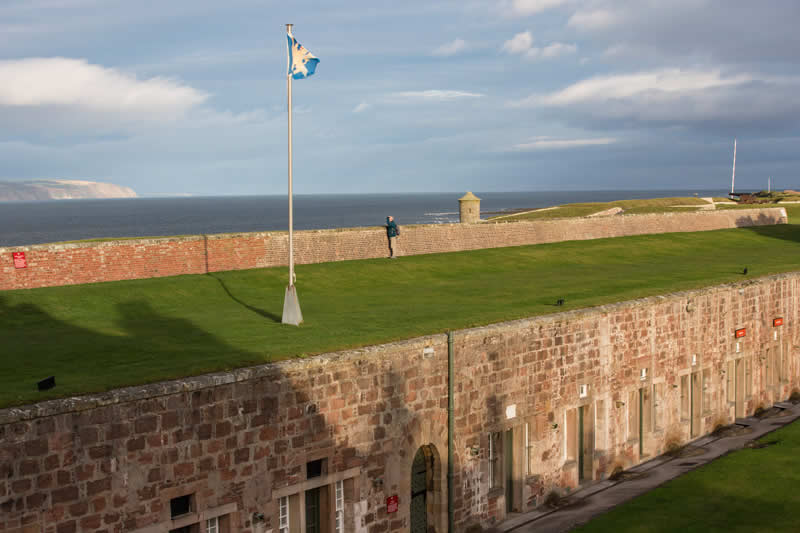 Dining Room
The dining room which can be set out in any format required is shown in the photograph in the style of a formal dinner and provides an excellent setting to entertain clients or perhaps host a small dinner or lunch. The dining room comfortably seats 12 people but this number can be increased depending on the configuration. A buffet style service can increase numbers up to 40 people.

Dining room laid out in traditional Queen's Own
Highlanders (Seaforth and Camerons) Officers/Sgt's Mess silverware collection.
Board / Meeting Room
Our board/meeting room seats a maximum of 12 people and is fully equipped with 40 inch LCD TV with HDMI connections, a projector and screen and free Wi-Fi. Both rooms can be combined and hired for functions such as buffet lunches, wedding receptions, parties or christening parties after visiting the chapel.

Should you wish to have a larger function, the whole Museum can be booked and can accommodate up to 80 people for drinks, receptions, lunches, parties or family get togethers. The Museum is also able to offer marquee hire for larger parties and weddings.
Regimental Chapel
The Regimental Chapel which is situated within the Fort can be booked for weddings, christenings, funerals and remembrance services. Why not book the Blue Hackle Rooms afterwards to make a complete day of the event. Bookings for the Chapel are made directly with the Museum. Click here for more information about the chapel.
The Highlanders' Museum (Queen's Own Highlanders Collection) and Fort George is a truly stunning venue away from the hustle and bustle of the city centre and can provide everything you need to ensure your event is one to remember!
To discuss your event requirements or to arrange a visit to view the Museum venues please contact:
Kirstin Mackay on 0131 310 8702 or email: bluehackle@thehighlandersmuseum.com