Dress of the 78th Highlanders in 1793
The uniform of the 78th comprised red coatee, kilt and belted plaid, sporran, red and white hose, and feather bonnet: the normal uniform of the Highland regiments at the time.
The main distinctions of the uniform were the buff facings on the coats, the Bastion shaped loops of the lace and the addition of red and white overstripes to the 42nd Government (or Black Watch) tartan. It is likely that the 78th were the first regiment to wear this tartan which later became known as the MacKenzie tartan of Clan MacKenzie.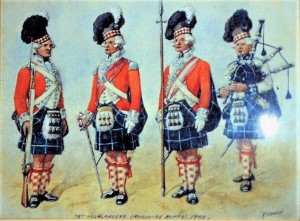 Other unique features in the dress of the 78th included the dress of the pipers who wore a buff jacket with green wings and a green hackle in the feather bonnet.