Working with the documents and photographs held in our archives is often a surprising, and sobering, experience.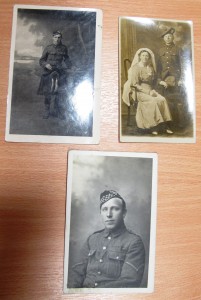 These photographs are from a large group of images taken in WW1 and kindly donated to The Highlanders' Museum. Unfortunately, these, and others within the wider collection, have no details with them regarding the names of those pictured, where the photograph was taken or what happened to the individuals. Whilst these images still have great value within our collection, and will always be given equal care to any other item, as a research tool they provide limited assistance.
We are often asked if we hold a photograph of a relative who served in The Highlanders' or one of the antecedent regiments and this is generally the hardest request for us to fulfill. There have always been far more non-commissioned officers and private soldiers than commissioned officers but far less photographs of them, particularly prior to the 1960s. Unless they were particularly prominent in sports or in battle, other ranks were seldom named or photographed.
Please take a moment to think about how many photographs you take on your phone or with a digital camera. How many do you upload to social media or download to a memory stick? How many do you print? Think also about the number of photographs there are in your house? How many are there in your parents' and grandparents' houses? Now here's the big question; do you actually know who is in the photographs and have you recorded anywhere who they are?
It is very easy to think that recording who is in a picture doesn't really matter because you know who it is and the people in the image aren't medal winners or a famous face anyway but actually for your descendants, and for future researchers, it is so important to know who is in that image and, if possible, what happened to them. Imagine for a moment that it is 2116 and your great-grandchildren are looking for information about you and your relatives from 2016 and how amazing it would be for them to look at the faces of those relatives. So why not take a little bit of time with your parents', grandparents' and even your children and go through those photographs and record who the people are before they are forgotten. You will have a bit of fun reminiscing about the past and your descendants will thank you – in 100 years or so!