'Group of the 79th beside Mills Mount Battery, Edinburgh Castle', by RR Mclan, 1854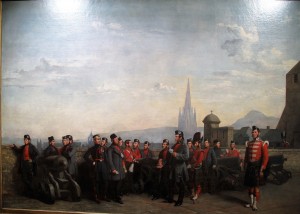 This painting is one of a set of four commissioned in 1852 by Lieutenant Colonel Lauderdale Maule to mark the end of his ten years in command of the 79th Cameron Highlanders.
All the figures are portraits of Officers and Soldiers serving at the time. Lieutenant Colonel Lauderdale Maule himself is the figure in the centre holding a piece of paper. The artist used photographs of each individual as a reference – one of the earliest uses of the new technology by an artist.
The painting together with its three partners, shows the strong sense of shared regimental feeling which existed within Highland Regiments.