The Highland Heritage Appeal
The Highland Heritage Appeal was started to raise funds for our successful Redevelopment Project.  The Redevelopment Project completed at the end of March 2013 but the Museum must continue to raise funds for small projects, community initiatives and day to day running costs.
Money raised through our fundraising initiatives will also ensure the financial sustainability of the Museum as well as providing vital funding to carry out conservation on our precious artefacts.
There are many ways you can financially support the Museum ranging from a one off donation to naming a room in the Museum.
Ways to Give to the  Museum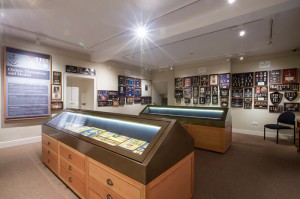 Name a Case
Highlanders' Museum.  Each display case tells a different story and provides a unique insight into Regimental life from just after the Battle of Culloden up until the present day. For a minimum donation of £500 you can name a case with a dedication of your choosing.  The plaque with your chosen dedication will be fixed on the display case. The cases are being snapped up quickly so don't delay and get in touch to secure your display case.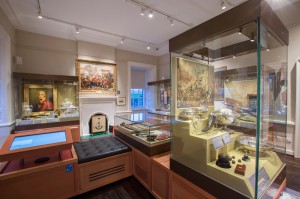 Name a Room
If you were able to support the Museum with a substantial donation you could have a room or part of the building named after you. There are many rooms on offer and your support would be recognised by a plaque at the entrance to your room, for instance "This room is sponsored by the MacDonald Family" or indeed any other message of your choice as agreed with the Museum.
Adopt an Artefact
There are a variety of fascinating and poignant artefacts available for adoption. For a one off donation of £250 you can adopt an artefact of your choosing.  We can provide you with a full list of all of the artefacts available for adoption or, if you would prefer, a list of available artefacts pertaining to a specific period or Regiment.
One-off Donation
The Museum also welcomes anyone wishing to make a one off donation no matter how small or large the amount.  All donations will be acknowledged.
Become a friend of the Highlanders' Museum
For an annual fee of as little as £25 you can become a Friend of the Highlanders' Museum.  There are varying levels of membership and with benefits including free entry to Fort George and discount in our Museum shop.  To find out more about this scheme and details how to join please click on the link. Our Business Manager Kirstin Mackay will be more than happy to discuss any of the above schemes and provide further information. Please call  0131 310 8702 to discuss your options

We offer the following payment options for your convenience;
Online payment Via Paypal or your Credit/Debit Card.
Cheque (made payable to the Highlanders' Museum)
Debit/Credit card payment over the phone on 0131 310 8702
In person (Cash, Cheque, Debit/Credit card)
---