Partnership working with Nairn Book and Arts Festival
Our Education Officer is out and about during Nairn Book and Arts Festival. She will take some of our WW1 & WW2 Handling Collection to Nairn Book and Arts Festival Kids' Day . Come and say hello, outside Nairn Museum on Saturday 15th September from 1- 4pm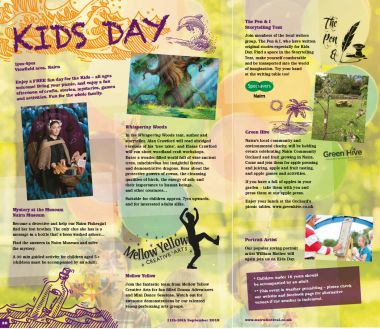 Enjoy a FREE fun day for the Kids – all ages welcome! Bring your picnic, and enjoy a fun afternoon of crafts, stories, mysteries, games and activities. Fun for the whole family.
1pm-4pm, Saturday 15th September 2018
Look out for the colourful tents from Limelife Bell Tents and discover what is inside each one!
Whispering Woods
In the Whispering Woods tent, author and storyteller, Alan Crawford will read abridged versions of his 'tree tales', and Elaine Crawford will run short woodland craft workshops.
Enter a wonder-filled world full of wise ancient trees, mischievous but insightful faeries, and demonstrative dragons. Hear about the protective powers of rowan, the cleansing qualities of birch, the energy of ash; and
their importance to human beings, and other creatures…
Suitable for children approx. 7yrs upwards,
and for interested adults alike.
Mystery at the Museum – Nairn Museum
Become a detective and help our Nairn Fishergirl find her lost brother. The only clue she has is a message in a bottle that`s been washed ashore…
Find the answers in Nairn Museum and solve the mystery.
A 30 min guided activity for children aged 5+
(children must be accompanied by an adult).
Mellow Yellow
Join the fantastic team from Mellow Yellow Creative Arts for fun filled Drama Adventures and Mini Dance Sessions. Watch out for awesome demonstrations by our talented
young performing arts groups.
Green Hive
Nairn's local community and environmental charity, will be holding events celebrating Nairn Community Orchard and fruit growing in Nairn.
Come and join them for apple pressing and juicing, apple and fruit tasting, and apple games and activities. If you have a fall of apples in your garden – take them with you and press them at our apple press.
Enjoy your lunch at the Orchard's picnic tables.
Portrait Artist
Our popular roving portrait artist William Mather will again join us on Kids Day.
The Pen & I – Storytelling Tent
Join members of the local writers group, The Pen & I, who have written original stories especially for Kids Day. Find a space in the Storytelling Tent, make yourself comfortable  and be transported into the world
of imagination. Try your hand at the writing table too!
Sponsored by Specsavers
---
* Children under 16 years should be accompanied by an adult.
** This event is weather permitting