Researching a WW1 Soldier
The centenary of World War One has created a dramatic increase in the number of research enquiries we've had here at The Highlanders Museum. Whilst we do not hold the service records of soldiers (these are available on ancestry.com) we do hold a vast amount of other information that can shed some light into your ancestor's service.
Take Lance Corporal William MacDonald a soldier of the Queens Own Cameron Highlanders, for example. He has not come through as a research enquiry however I noticed his name in 'Soldiers Died in the Great War' and decided to see what I could find on him.
I first consulted the online database version of 'Soldiers Died' which allowed me to learn a lot more about William. This provided me with his date of death (18th of May 1915), his service number (1216), and what Battalion he belonged to, the 4th. I also discovered that he was originally from Portree in Syke which is where he enlisted as a young man.
I then moved o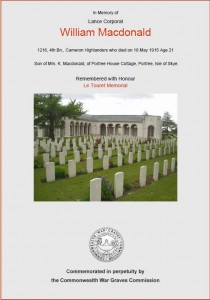 nto the Commonwealth War Graves Commission Website, which lists all known Commonwealth deaths during both World Wars, from there I was able to find a bit more out about LCpl MacDonald: he was only 21 when he died on the 18th of May 1915 and is commemorated at the Le Touret Memorial, in France. The CWGC site gives a detailed description of cemeteries and who is buried there. Le Touret Memorial commemorates over 13,400 British soldiers who were killed in this sector of the Western Front from the beginning of October 1914 to the eve of the Battle of Loos in late September 1915 and who have no known grave.
I then began to wonder about the 4th Bn of the Cameron Highlanders; what did they do during the war? I consulted the Queens Own Highlanders Regimental History, by Angus Fairrie, which gives an excellent account of battalions' where abouts and actions during their l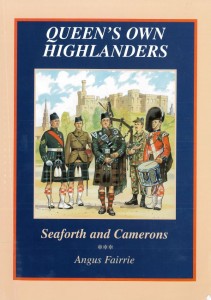 ong history. The 4th Camerons were mobilised in August 1914 and were part of the TA in. They then moved down to Bedford where sadly, many of the men died due to measles. The remaining battalion of 960 men, arrived in France on the 20th of February 1915 taking over the line on the Estaires-La Bassee road. The first major battle that the battalion took part in was that of Neuve Chapelle, 10th – 17th of March which cost the battalion 140 casualties. Once this was over they moved to a different division and were called in to play a major role in the Battle of Festubert in May 1915. The battalion faced great difficulties during this battle and despite succeeding in its objective were forced to withdraw, losing 250 casualties in the process.
As we know that LCpl MacDonald died on the 18th of May 1915 we now know that this was part of the Battle of Festubert. The museum holds the war diaries for this period – although they stop after May 1915 for the 4th Camerons. After reading those it was clear that the Battalion had been through a great deal during the battle. Unfortunately the war diaries for this are hard to read and did not scan very well so I cannot give an example.
I then turned to ancestr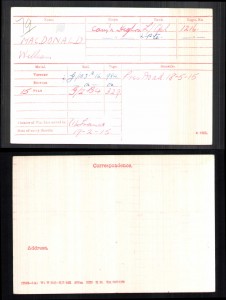 y.com to find LCpl MacDonald's medal index card. This will tell us what medals he was entitled to. The index card shows his name, number and regiment and goes on to tell us that he was awarded the British War Medal. The British Victory Medal and the 1915 Star. Both the British War Medal and the Victory Medal were given to all members of the British Armed Forces that served from 1914-1918. The 1915 Star was awarded to those who entered war in 1915, similarly the 1914 Star was awarded to those who served from 1914 onwards.
It would have been great to find a photograph of LCpl MacDonald but unfortunately in the museum finding photographs of particular people proves quite tricky. Whilst we do have thousands of images here in the museum, the majority are anonymous.
If you found this interesting and have a relative that you would like some research carried out on, please fill in our online research request form, which is available here.