Restricted access to current Exhibition 12 – 18 March 2018
Due to unforeseen circumstances the temporary exhibition will need to be closed.  If you wish to see the exhibition, you will be escorted to the exhibition area and out of it.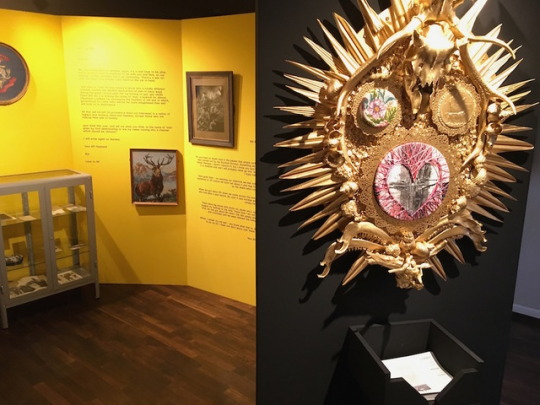 Artist in Residence Exhibition Summer Has Been Turned To Winter By The Guns at The Highlanders' Museum (Queen's Own Highlanders Collection) 8th October 2017 – 18th March 2018
The Highlanders' Museum (Queen's Own Highlanders Collection) appointed Feagour based Robyn Woolston as Artist in Residence at the beginning of the year. Robyn has been working with our World War One collection of objects, photographs and documents and to produce a thought-provoking exhibition of art work including contributions from Ardersier Primary schoolchildren.
The Artist in Residence worked with our First World War archive to bring to life some of the interesting stories and characters which exist in the original letters, diaries and photographs kept by Highland soldiers during the conflict. The project also engaged with local school children, allowing them to learn about the First World War and respond creatively to what they have learned.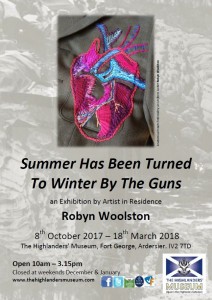 The aim of the Artist in Residence Programme and Exhibition is to help the children and adults to understand what life was like for a Highland soldier on the battlefront during the conflict.
Robyn Woolston is a fine artist with a great deal of experience producing artwork, exhibiting, collaborating and working with children and adults from many different backgrounds and in many different settings – most recently as Lead Artist in a series of workshops at The British Motor Museum, Gaydon, Warwickshire, which will be followed by an exhibition.
Education Officer, Gill Bird "It has been a real experience for staff, volunteers, visitors and local schoolchildren to work with our Artist in Residence on this project – seeing our World War One archive through fresh and creative eyes. Robyn Woolston's exhibition is stunning, thought-provoking and presents a personal response to 'The Great War' from the artist alongside the children and adults who contributed to the project."
Artist, Robyn Woolston:  "Fort George has provided a fascinating and vital opportunity to engage with both the heritage, stories and architecture of The Highlanders' Museum (Queen's Own Highlanders Collection). It's an extraordinary commission and the Exhibition 'Summer Has Been Turned To Winter By The Guns' illuminates a series of novel responses to the World War 1 displays and archives alongside engaging the local community on a creative journey of exposition and place-making."
"My research journey has uncovered a series of letters home from the front-line, alongside war diary accounts, that are truly heart-wrenching. During times of heightened emotion, conflict and valour the resilience of the human spirit shines bright'
To find out more about the residency please visit: https://highlandersmuseumww1.tumblr.com
Opening Times
10.00am – 3.15pm
 Admission to the Highlanders' Museum (Queen's Own Highlanders Collection) is FREE but you must pay an admission charge to visit Fort George.
Adult – £9.00 Concession – £7.20
Child aged 5–15 – £5.40 Under 5 – FREE