Talks and Events for World War One Centenary
The Centenary of World War One continues to generate some fascinating, thought-provoking and engaging events and talks.
During the month of May you can take part in the following …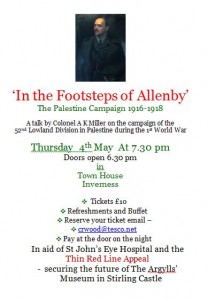 A fascinating talk – 'In the Footsteps of Allenby' The Palestine Campaign 1916-1918
– by Colonel A K Miller on the campaign of the 52nd Lowland Division in Palestine during the 1st World War. contact crwood@tesco.net to reserve a place
Thursday 4th May At 7.30 pm
Doors open 6.30 pm
in the Town House, Inverness
Colin Ca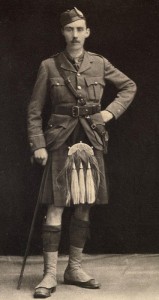 mpbell's talk 'A Hundred Years On: Lt E A Mackintosh, 1/5th Seaforth, Student, Soldier and Poet
Saturday 13thMay
2.30 pm
Elgin Library
In No Man's Land is our favourite poem, how about you? http://www.wfascotlandnorth.org.uk/programme.htm
The Highlanders' Museum is partnering with the Imperial War Museum London, First World War Centenary and the University of the Highlands and Islands, Inverness to bring you the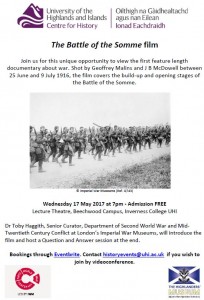 Battle of the Somme 1916 film.
Wednesday 17th May
7 pm
InvernessLecture Theatre, Beechwood Campus, UHI, Inverness
FREE Admission, book via Eventbrite
Dr Toby Haggith, Senior Curator, Department of Second World War and Mid-
Twentieth Century Conflict at London's Imperial War Museums, will introduce the film and lead a Question and Answer Session at the end. https://www.eventbrite.co.uk/e/the-battle-of-the-somme-film…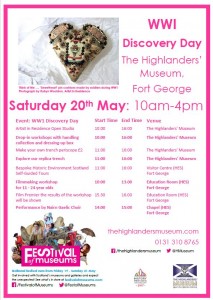 World War One Discovery Day at The Highlanders' Museum, Fort George. Part of the Festival of Museums. Your chance to visit our replica trench, make trench periscopes, listen to the fabulous Nairn Gaelic Choir sing at the Chapel, watch a film created by Ardersier Youth Group and talk to our Artist in Residence Robyn Woolston.
Saturday 20th May
10am – 4pm
The Highlanders' Museum, Fort George