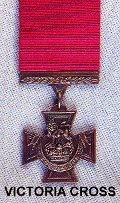 The Collection is probably the largest regimental display outside London. Founded over 60 years ago, the Museum houses more than 5,000 gallantry awards and campaign medals won by the fighting men of the Regiment, including 16 of the Regiment's 22 Victoria Crosses. It also contains a set of Colours carried at the Battle of Waterloo, King Edward VIII's regimental uniform as well as silver and personal artefacts carried by members of the Regiment since 1778. On the 'darker' side, the Museum holds a box used by Adolf Hitler for his personal papers.
Our collections also include medals and "death pennies" (WW1 memorial plaques), uniform and accoutrements, instruments and arms, pictures and paintings.  We have spectacular personal items such as red woolen stockings from the 1880s and a small wooden pig which was whittled as a good luck charm for a soldier in the First World War.
In addition we have a fabulous library and archive with personal  letters and  diaries as well as  regimental diaries, books and magazines. In the 21st century we need to safeguard our collections for the future by creating display and storage conditions that are both better for care and conservation of the items and more amenable and accessible for our visitors. We have an obligation to the soldiers who served and who still serve, to tell their stories.