The Highlanders' Museum relies on the hard work and dedication of volunteer staff to supplement the work of our paid staff. Without our volunteers we would grind to a halt. No prior knowledge is required. All that we ask of volunteers is an empathy with our work, a willingness to learn and a commitment to the organisation.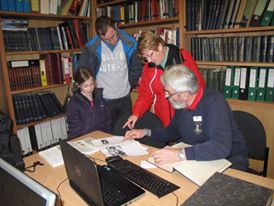 The museum encourages all staff (both salaried and volunteer) to attend training courses which are beneficial to the individual and the organization and within current financial constraints.
After initial training, specific workshop sessions will be organized to address any specific areas identified by the volunteer and the Volunteer-Co-coordinator.
It is hoped that a volunteer can give a regular commitment to the museum for at least 3 months. This commitment could be to attend once a week, once a fortnight or once a month, whatever is mutually acceptable.
We have a wide variety of volunteer roles here at The Highlanders Museum and whilst we have 6 distinct role descriptions, we are always willing to be flexible with these.
Research – we receive between 20 and 30 enquires each week from people at the front desk, or via the telephone, email or post. Questions relating to particular members of the regiment, or events or engagements, regimental practice and tradition come from members of the wider regimental family, from family researchers, historians and academics. Volunteers with a regimental background are particularly useful in this role, but those with an enquiring mind, an ability to research and to solve problems or an amateur knowledge of the regiment are also very welcome.
Collection care – this is "time-travel for beginners". Volunteers working on specific parts of the collections are in the unique position of being able to handle and care for objects and books. Some of these items stem from the earliest regimental history. In an attempt to complete an inventory of museum holdings we have teams of volunteers recording what, where and in what condition items are in the following groups:

Paintings and textiles
Silver
Textiles
Photographs
Books and documents

These inventories will provide the basis for monitoring the condition of items and of identifying those objects which have the greatest need for conservation intervention. On a limited budget this is essential to the efficient and effective use of our resources. Collection care is a bit like "the Forth Bridge" a never ending job, but we tell volunteers "bit by bit" like eating an elephant. Don't be put off by the scale of the task in hand.

Meeting and greeting –A very important position, the first point of contact our visitors have with the museum. It is our intention to keep the front desk staffed at all times so that we can meet and greet all visitors to the museum, to:

record the actual number of all visitors to the museum
advise them on the best way to view the collections.

advise on facilities in the vicinity (e.g. stair lift, café, public toilets).
encourage retail purchases and donations and use the till to process these
encourage visitors to complete a five minute visitor survey after their visit, the information from which will be used as supporting evidence in any grant applications.
note down any criticisms of the museum and to graciously accept any praise
Tour Guide

Provide instructional guided tours of the museum to visitor
Answer any questions that members of the public may have
Encourage donations in the various donation boxes throughout the museum
Data Entry Assistant

Cataloguing items from our collection on the collections database Adlib
Updating the object information that has already been input on Adlib
Liaising with the data entry officer, curator, and curatorial volunteers to help organise the stores
Education and Outreach Assistant

Setting up equipment and preparing for school group
Support or take a facilitating role delivering workshops for school childre
Provide supervision for students of all ages whilst on sit
Willingness to chat with school teacher  and students during the visi
Help and encourage students of all ages and abilities to participate in the undertaking of workshops and associated activitie
Encourage feedback from students and teacher
Help pack up after school visits
If you think you'd like to get involved, please don't hesitate to contact our volunteer co-ordinator, Katharine, on katharine@thehighlandersmuseum.com or 0131 310 8703