World War One inspired mural created by local children goes on show at the Highlanders' Museum
This mural was created by local primary school children with Artist in Residence, Robyn Woolston
The landscape is inspired by the paintings of Paul Nash, particularly 'Wire' 1918-19, alongside photographs of Oestraveene Wood (dated 11th June 1917) from the archives held at the Highlanders' Museum.
We also took inspiration from the following line found underneath one archive image held within the collection:
'Summer has been changed to Winter by the guns'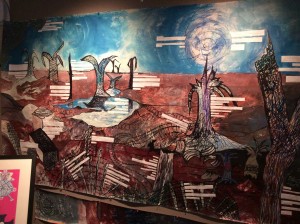 There are a series of 'Letters Home' collaged into the landscape. These were written by the school children who imagined what it would be like to be solider on the front line or a nurse in an army hospital. They were inspired by a particularly moving letter from a 17 year old Cameron Highlander as follows:
Dear Father,
It is now at least four days since I was wounded and I am still in the same spot. The pain is not as bad at present and I feel I am very near death. I am too weak to shout for the stretcher bearers any more, they are too far away to hear me and I'm cut off from my own lines by ditches. I wish I could see you all before I die but God's will be done. I think I am the last of the Camerons in the field alive. The rest have all died or else reached safety. I am quickly getting weak so good-bye father, good-bye all. 
From your dying son John, pray for me 
Written by Pte John McAdam from Glasgow who was only 17 years old when he died
The mural is currently on display in the Temporary Exhibition Gallery.