On 10th March our Education Officer was privileged to take part in a World War One Study day at the Highland Archive Centre. Speakers included Iain Robertson on Land Legacies – the enduring impact of the First World War on Highland land issues, Tom Greenshields speaking about 'The Highland Soldier' [Did you know that around 200 Londoners joined up to the Highland Division? I wonder how they felt about trench warfare in a kilt] and Maureen Kenyon who gave a fascinating lecture on the role of four influential Inverness Women in the war effort and suffrage movement.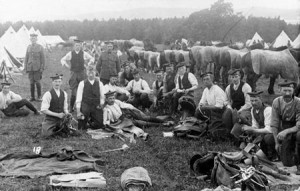 Lovat Scouts training for WW1 near Beauly
We are very lucky to have some fantastic resources in the shape of the  Highland Archive Centre, the Highlanders' Museum and the many museums and local history organisations working to reveal local, regional, personal and national stories.
There are also some amazing online resources such as
Lives of the First World War – a wonderful FREE resource from the Imperial War Museum where you can  search for relatives or people of interest and help tell the life stories of soldiers and civilians who contributed to the war effort. (Our Education Officer managed to find 13 records for Drivers, Workers and Soldiers almost certainly related to her on the first attempt!)
The First World War Centenary Partnership. Led by the Imperial War Museum the First World War Centenary Programme is a vibrant global programme of cultural events and activities, and online resources, connecting current and future generations with the lives, stories and impact of the First World War.
Gateways to the First World War – a centre for public engagement with the Great War centenary.
And Living Legacies 1914-18 providing community outreach, engagement and collaboration between research organisations and researchers and community groups—including young people—interested in researching and commemorating World War 1, the broader historical and cultural context of the War, and its continuing legacies and impacts today.