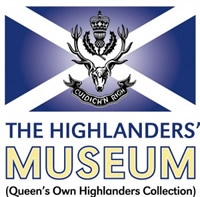 CURATOR 
The Highlanders Museum (Queen's Own Highlanders' Collection) invites applications for a Curator to work at Fort George, near Inverness, on 1st December 2019, or as soon as possible after this date
Applicants should have relevant experience and a keen interest in preserving and developing the collection of priceless artefacts. The post is full time, although the Board would consider a Job Share.
The successful candidate will report to the Museum Director and work as a member of a small team of full time staff and volunteers. He or she will be prepared to take on both the duties of the Curator and to assist in the day to day running of the Museum.
The successful candidate will be responsible for reorganising and updating the records, storage, and conservation of the Collection as part of the ongoing digitization programme.  He or she will be adept in using electronic technology, and be inventive as to how the Collection can be presented to the visiting public. This is an exciting and challenging task involving thousands of artefacts, documents and pictures, and will be the responsibility of the curator who, with a small team of volunteers, will be fully involved in all aspects of the role.
The post will be hugely rewarding, bringing the successful candidate into daily contact with a collection which represents almost 250 years of history and attracts over 50,000 visitors a year.  The Museum is fully accredited and has been awarded 5*status as a visitor attraction by Visit Scotland.
To apply for this exciting opportunity please send a covering letter and your CV to Kirstin Mackay, Museum Director via email director@thehighlandersmuseum.com
Closing date: midday on Wednesday 9 October 2019. All applications will be acknowledged.
Please note that a job description is available on request by emailing the Museum Director.
Salary: In the range of £23k to £25k, depending on the skills and experience of the successful candidate, or candidates if the post is filled on a Job Share basis.