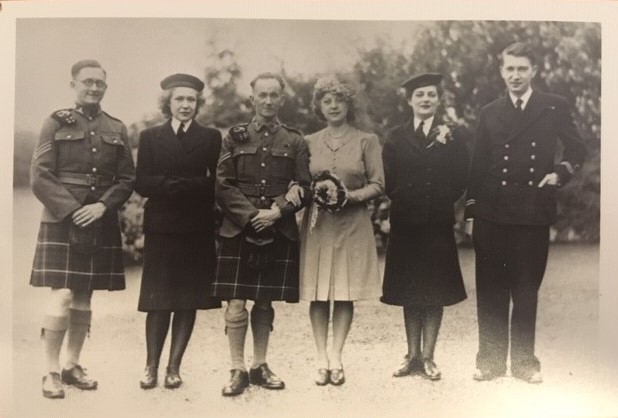 Sergeant Alfred V Hubbard (centre) on his wedding day in 1944.
Alfred Hubbard was helped to escape from St Valery by Frenchwoman, Madame Jeanne Joly-Vincent in 1940 when the 2nd Battalion, Seaforth Highlanders were captured. Madame Joly-Vincent looked after and helped a number of soldiers escape from German-occupied France, and was known as a 'mother' to them.
When Alfred Hubbard was found in a field Madame Joly-Vincent brought him food, treated his injuries and found him a place to stay on a farm with three other soldiers. The farmer hid the soldiers from the Gestapo and eventually they were able to escape to Spain and then Gibraltar. From here they made their way back to Britain.
The story was told in a 1947 newspaper article, written when Madame Joly-Vincent came to the UK to visit another soldier that she had helped during the War.