Nulli Secundus
A poem from the Archive
Have you ever wondered, or even noticed, the button spacing on the iconic red tunics worn by the Guards of the Royal Household Division at Buckingham Palace? Whilst most tourists taking photographs between the railings might only see the red tunic and bearskin hat, the more observant might notice the curious spacing of the buttons down the front of the tunic, in straight ones or groups of two, three, four and even fives. If you haven't noticed, an example can be found here.
The button spacing, along with other features such as collar badges and plumes, distinguish the five Guard regiments – the Grenadiers, Coldstream, Scots, Irish and Welsh – from each other. The Grenadier Guards trace their lineage back to 1656 when Lord Wentworth's Regiment was raised in Bruges to protect the exiled Charles II. They take precedent as the senior Foot Guard regiment by virtue of being on the establishment in the service of the Crown for the longest. Technically Monck's Regiment of Foot, which later became the Coldstream Guards, is the oldest as it was formed six years earlier as part of Oliver Cromwell's New Model Army.
So, what has this talk of Foot Guards and button spacings got to do with the Highlanders Museum (Queens Own Highlanders Collection) poetry collection? Well, read this month's poem and see. It was found amongst a collection written by John James Harrower Ferguson RAMC, Medical Officer in the 9th Seaforth Highlanders during 1915, who wrote under the nom de plume "Zem Zem". Most of his poems are neatly typed and signed, but this one was handwritten and the only name that appears is a G.S.Smail. There was a Lieutenant George Sommerville Smail in the 9th Seaforths at that time and "Master Smail" is mentioned in Ferguson's poem Tiger Tim in Flanders.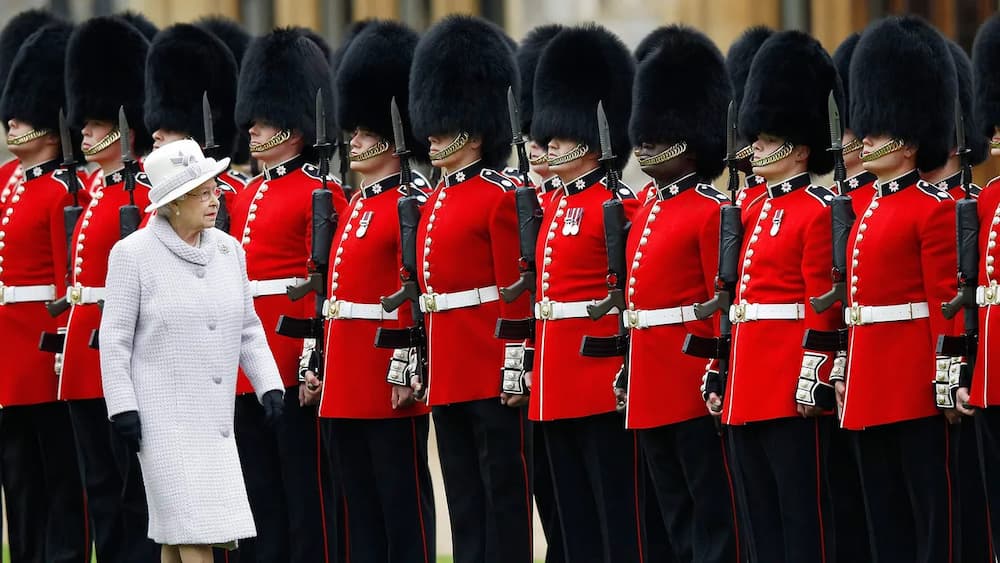 Nulli secundus (Second to none)
Attributed to John James Harrower Ferguson, Medical Officer, 9th Seaforths, 1915 
From Coldstream, far north on the Tweed, one day
Two colonels came marching up London way
Where, finding the Commonwealth losing tone
They set Charles the Second upon the Throne
Then, asked about honours and due rewards
They applied for the post of His Majesty's Guards
This put His poor Majesty into a jam
And he said "I can't tell you how sorry I am
"But I'm greatly afraid that this thing cannot be
"'Cos I bought my Guards Regiment over with me
"And I think that the best I can possibly do
"Is to call them the First Guards, and you Number Two"
This answer occasioned some justified ire
And the Colonels replied, with forgivable fire,
"In our humble submission we cannot agree
"as our motto is NULLI SECUNDUS, you see
"And if as the First Guards we cannot be reckoned
"We'll be Third, Fourth or Fifth, but we'll never be Second"
So they left a wide gap where the second should be
Taking place – par passive – as Number Three
But to safeguard all claims they might otherwise lose
They decided to wear all their buttons in twos
And they said to the Scots Guards "Just stand where you please
"Provided you wear your buttons in threes"
When the Irish Guards came after Africa's wars
They naturally wore all their buttons in fours
And last on the scene, the Welsh Guards arrived
And he wears, well you've guessed it, his buttons in fives
And all the time Coldstream said "My dear old chap
"Don't mind about us – please step into the gap".
So you'll note when you see this most famous Brigade
All drawn up in line, on a full dress parade
That the Grenadiers stand in position to right
Then come Scots, Irish, Welsh and last Coldstream polite
And the buttons go one, three, four, five and two
Which is rather untidy, I think, don't you?
George Sommerville Smail was born in Broughty Ferry, near Dundee, on 27th June 1894 and went to the High School of Dundee where he won class prizes for maths, French and geography. He went on to join the Officer Training Corp Going at St Andrew's University, where his final year Engineering studies were interrupted by the outbreak of the war. The London Gazette records him being made a Temporary 2nd Lieutenant on 1st October 1914 and he joined the 9th Seaforth when they were formed at Fort George one week later.
The battalion joined the 9th (Scottish) Division at Aldershot in December 1914 and in early 1915 became the Pioneers of the 9th Division. The 9th Seaforth were the first Pioneer unit formed and the first to land in France, in May 1915. Many of its officers were qualified engineers, or like Lieutenant Smail had engineering training, and the soldiers were mainly bricklayers, miners or labourers. They were trained in both infantry skills and simple engineering work. These pioneer battalions were responsible for building roads, communication trenches, strong points and trench mortar emplacements.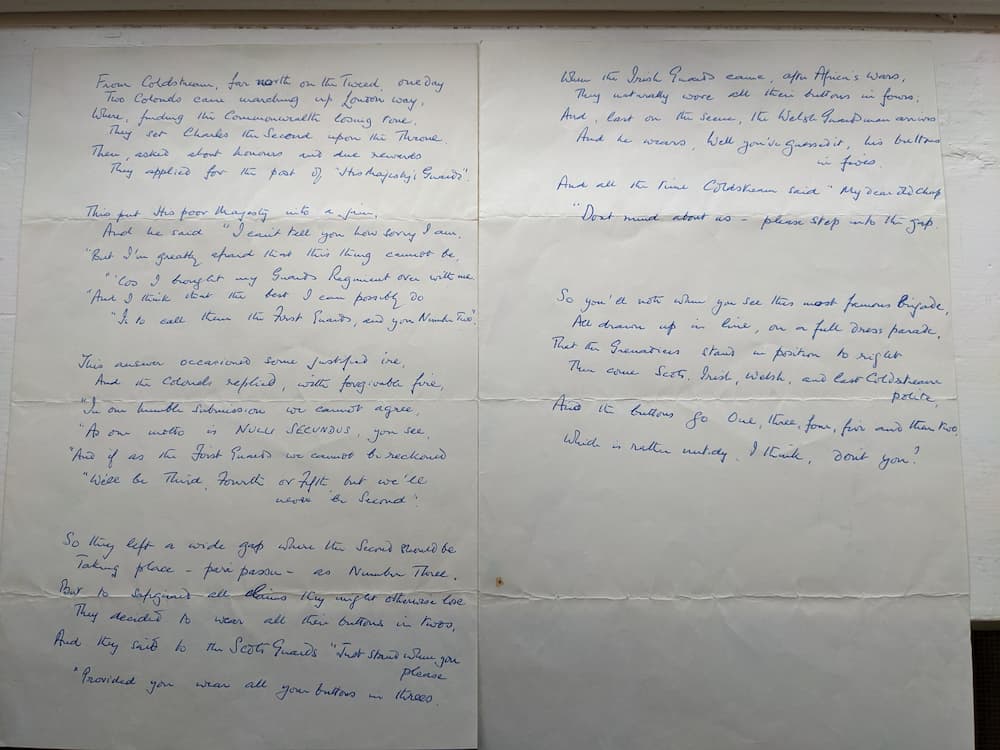 George Smail was made up to Lieutenant in September 1915 and promoted to Captain by June 1917. Earlier that year he had been awarded the Military Cross. By the end of the war he had been promoted to Major and 2nd in command of the Battalion, and was included in the list of officers deserving special mention in Sir Douglas Haig's final despatch of 16th March 1919. By then he had returned to St Andrews to finish his Degree and was awarded a BSc (Engineering) in July 1919. We don't know much about him after that, but the Dundee Courier announced his engagement to a Kathryn Coleman, daughter of Mr and Mrs Richard Wharton of Harrisburgh, Pennsylvania with the wedding taking place in Harrisburgh on 3rd October 1928.
Although the poem is undated, Captain Ferguson left the 9th Seaforths in October 1916, so it must have been written before then, possibly inspired by the formation of the Welsh Guards in February 1915. Curiously, the museum's copy is handwritten in biro pen, which didn't come into widespread use until after WWII, so perhaps Major Smail transcribed it from a dog eared original later in his life. The poem is very much in the style of Zem Zem's other work, and we have attributed "Nulli Secundus" to him accordingly. However, the mystery of the poem's exact provenance is part of its charm and as you watch the Guards parade for the Queen in honour of her 70th Jubilee, we hope you think so to.
By Craig Durham, The Highlanders Museum (Queen's Own Highlanders Collection) Volunteer
ENJOYED READING THIS BLOG POST? DISCOVER EVEN MORE AMAZING STORIES…