Ladies from Hell
A poem from the archive 
Continuing on from our El Alamein 80th Anniversary special, this poem is about the Highland soldier in the Middle East and North Africa during WWII. The poem is one of several written by Captain Lionel Leslie who served with the Cameron Highlanders in India from 1923-26 and then again in 1939-45 after being recalled from the Regular Army Reserve of Officers.
Die Damen aus der Hölle (Ladies from Hell) was a nickname apparently given by the Germans to soldiers of the Highland battalions in WWI. Back then the Highlanders still wore kilts as regular battle fatigues, and were always accompanied by the regimental pipers as they stormed over the top, the skirl of the pipes providing a clarion call and rallying point much as it had done during the famous 'Highland Charges' of centuries earlier.
The kilt as battle dress was finally superseded by standard British Army fatigues after the evacuation from Dunkirk in 1940, and only after much resistance from the Highland Regimental high command. When Major-General Douglas Wimberley took charge of the re-constituted 51st Highland Division in 1941, he was very keen to maintain as much of the previous traditions as possible, including kilted pipers both on parade and leading the attack. In an age where standardisation of uniform and equipment became the norm through necessity and practicality, the kilted piper became a proudly heroic and lasting image in the minds of the German and Allied forces alike.
Ladies from Hell
A Highland Soldier he
Is tough to look on so men say –
A splinter scar across the cheek,
An ear half blown away.
He wears a garment strange
To Sassenach who crave to know…
Incredulous on learning that
He wears no wool below.
His enemies believe
He has the spirit of a fiend,
And swear that on no mother's milk
But whisky he was weaned.
For when the pibroch sounds
His blood stirs strangely and men see
That light of battle in his eyes
Before which cowards flee.
He's known some wildish nights,
And watched the dawn grow red
On foreign fields, when folk who've seen
His face have turned and fled.
He's heard the war pipes skirl
From Dunkirk to the Holy Land,
Hard over Keren's rocky heights
And miles of Libyan sand.
Beyond the river Rhine
Old soldiers of the Wehrmacht tell
Of pleated skirts above the knees
On ladies loose from hell.
Captain L.A.D. Leslie, 1st Battalion Queen's Own Cameron Highlanders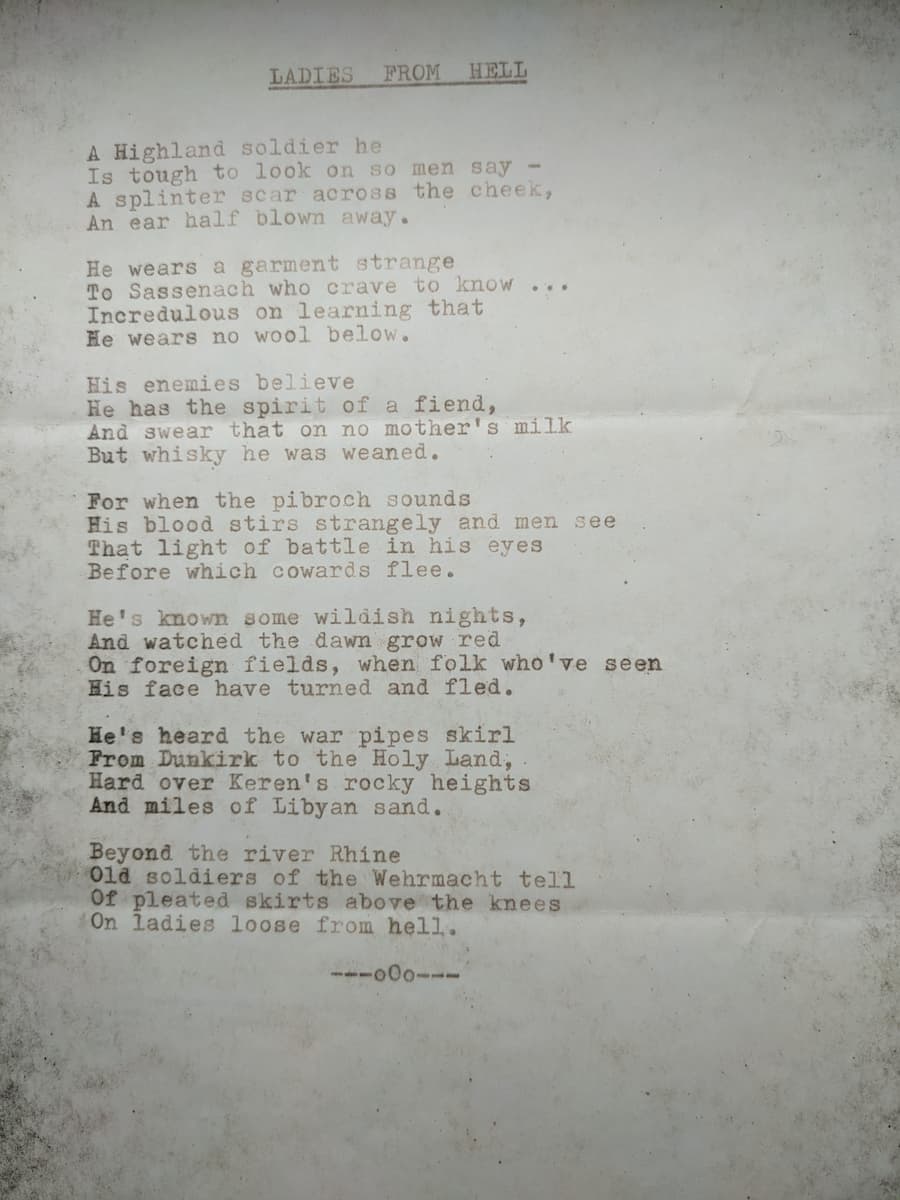 The following summary of Captain Lionel Alistair David Leslie's long and eventful life is taken from his obituary which appeared in the Queen's Own Highlander magazine, Volume 27 Number 72, Summer 1987.
Captain Lionel Leslie, sculptor, explorer, soldier and author, died on 17 January 1987 aged 86. He was a man whose curiosity, artistic flair, wide interests and indifference to conventional constraints equipped him to take full advantage of the opportunities which came his way as a young man.
He was the fourth son of Sir John Leslie of Glaslough in County Monaghan, Ireland. His boyhood was spent at Castle Leslie where he first developed an interest in the wild and for exploration. He was sent to Eton but like his first cousin (and godfather) Winston Churchill before him, the strictures of school did not suit his temperament. As was then common for a younger son of the gentry, a place was found for him at Sandhurst and he was commissioned into the Cameron Highlanders in 1922.
He joined the 1st Camerons in Calcutta (now Kolkata) in early 1923 and during his three years in India and Burma he readily seized the opportunities for travel in the wild. In 1926 he left the army and travelled to China and then East Africa. He subsequently joined an expedition to Labrador and shortly after published an account of his travels in his first book Through the Wilderness Trails in Three Continents.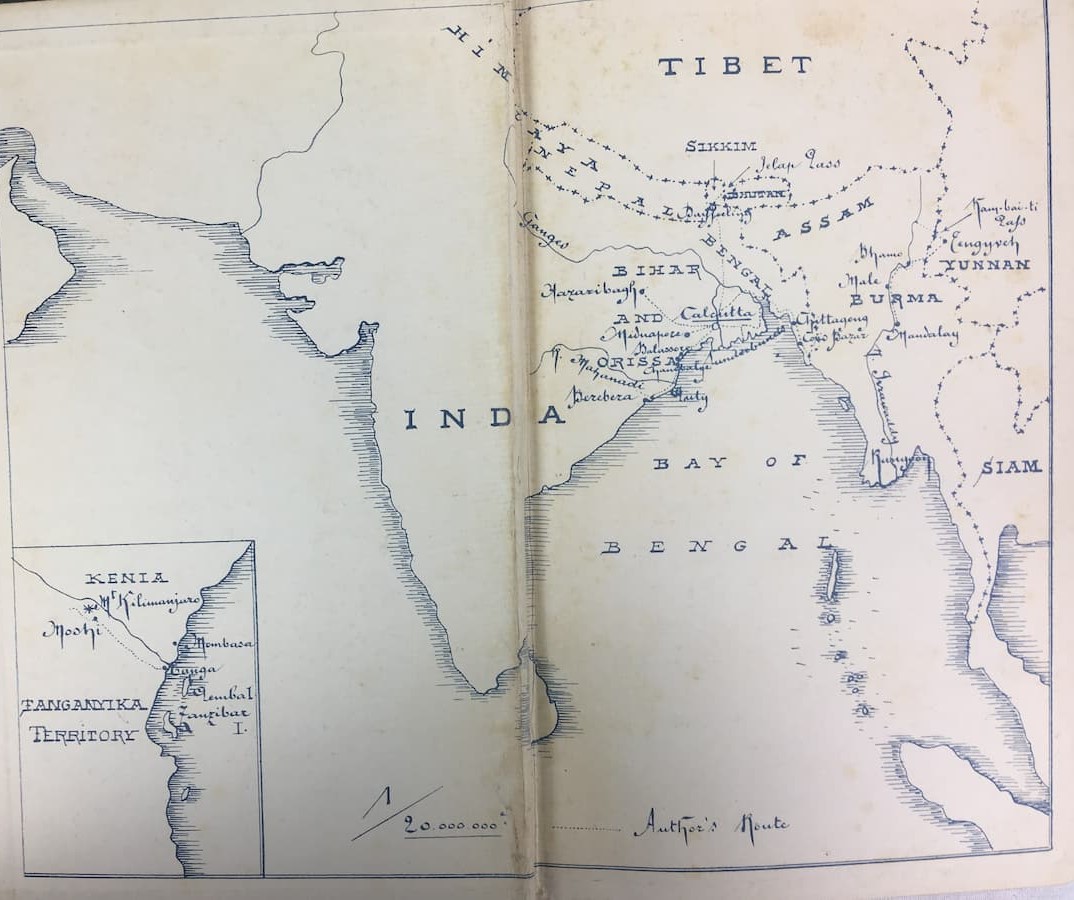 Next he found himself in Morocco and whilst convalescing after an attack of malaria, discovered his talents as a sculptor. His Head of a Senegalese was accepted by the Salon de Tuileries in 1933 and his Head of a Young Woman was accepted by the Royal Academy in 1935. Among his other works is a figure of a piper of the Cameron Highlanders which he presented to the regiment.
In 1939 he was recalled to the Army and served in France, Egypt and Italy, where he was mentioned in dispatches and wrote the poem Cassino, also held in the museum archive and published in the Queen's Own Highlander in 1986.
In 1942 he married Barbara Enever and after the war retired with her to the Isle of Mull where they set about the renovation of the derelict inn at Grasspoint, the nearest part of Mull to Oban. Because of its small harbour and proximity to the mainland, they received many visitors and tourists initially attracted by the prospect of spending a few hours on Mull, but often staying longer to spend more time in the company of Lionel, his sculptures and his reminisces of adventures in the army and beyond.
Outside the tourist season Grasspoint provided the ideal location for his sculpting, poetry and writing. He also developed in interest in the Loch Ness monster and similar unexplained phenomena in other lakes. Although he was unsuccessful in personally sighting 'the monster' he was compensated by the corpse of a killer whale washed ashore on Mull and whose skull he subsequently showed off at Grasspoint to the delight of himself and tourists alike.
By Craig Durham, volunteer at The Highlanders' Museum (Queen's Own Highlanders Collection)
ENJOYED READING THIS BLOG POST? DISCOVER EVEN MORE AMAZING STORIES…