War – My Part of It
A poem from the Archive
As November is the month of remembrance and the tradition of wearing a poppy originated "In Flanders fields", this month's poem from the archive is a personal account of a typical day in the trenches on the Western Front during WWI, as told by Private 16988 Thomas Macgregor, of D Company 1st Battalion Queens Own Cameron Highlanders. Partly written in Scots, the poem was probably intended to be read by his relatives to give them a flavour of life at the front, whilst sparing them the more graphic details. The verses are neatly typed over three pages and are unsigned and undated, credited only to "a First Battalion Cameron Highlander". It was donated to the museum along with copies of Thomas MacGregor's birth and marriage certificates, and as the poem specifically mentions Irvine, where his family lived, we have accredited it to him.
Thomas was born on 29th November 1890 at Fullarton Street, Dundonald, in Ayrshire and worked as a blacksmith. He married Elizabeth (Lizzie) Gibson on 22nd August 1913 and they lived at Kirkland Place, East Road, Irvine, where their son Andrew was born in June 1914. Thomas joined up in April 1915 and was sent to Invergordon as part of the 3rd (Special Reserve) Battalion. The wartime role of the 3rd Camerons was to maintain the coastal defences for the naval base in the Cromarty Firth, and to provide drafts and reinforcements to the Regular and Service battalions. During WWI, the 3rd Camerons despatched 15,583 officers and men to the battalions at the front, including Private MacGregor who would have been mobilised to France sometime between May and August 1915.
War – My Part of It
By Private Thomas MacGregor, 1st Battalion Queen's Own Camern Highlanders
Noo, Lad, I hear ye'd like tae ken
Hoo things are gaun oot here.
Weel, I'm ane o'the Cameron men
So listen but please don't cheer.
Oor Regiment, I need hardly tell,
Has dune some wark oot here;
If it is'na in the trenches, well,
You bet it's in the beer.
Nae joking lad, I've tramped some miles,
Laid waste by the cruel Hun,
Seen streets of houses bereft of tiles,
But yet we'll hae oor turn.
It's terrible to see the sights.
Of wrecked and ruined hames,
A church oor Parsons ane delight,
Is noo a mass of stanes.
Here is a factory on one side,
A mine across the way,
After the swell of Kultur's tide,
What is't remains today.
Of the factory still a few bricks stand
But I am loth to say,
The mine as tho' touched by a magic wand,
Has vanished now for aye.
What then if Irvine were, my Boy,
Wrecked like some places here,
Your hame, your mither's pride and joy
Would cost you many a tear.
Enough of this sad tale, my lad,
To the trenches we will go:
Perhaps you think I have a fad
For telling tales of woe.
This is the place we enter now;
Keep close and don't lose touch.
Before you've gone up far you'll vow,
You'll ne'er more dare so much.
Suppose it is a pitch dark night,
After a day of rain.
The chap in front flops out of sight,
You shout but all in vain.
You slide and slipat every step,
Now you have caught them up.
It's no use grousing, please don't fret,
It's only just your luck.
Along the trench the word is passed,
"wire overhead, take care".
You're looking up; ah now you've splashed,
Into a hole somewhere.
The man behind says "Move on please!"
What is this water now?
It catches you about the knees,
While sweat drops from your brow.
Exciting as it is at first,
There's one more mile to go.
Before it's done you will not burst
Again to soldier so.
At last you gain the firing line,
Some regiment to relieve.
You're No.2 so it's your time,
Stand up! Are you at ease?
They're scarcely thirty yards away,
Take care, yet keep an eye,
On wily Fritz across the way,
In case he has a try.
On sentry go you must, look out,
Entanglements there are none.
If bullets whistle, well, don't shout
Your bit has just begun.
At 2 a.m. up goes a mine,
"Nobel's" isn't in it.
You think it is the end of time,
And nearly have a fit.
Your wet kilt round you like a bag,
Rubs on your shaking knees.
Your feet are soaking: light a fag,
And try to feel at ease.
Content you've five days more,
To do in your small sphere.
Of small dug-outs and mud galore,
Without a taste of beer.
When time is up you're not displeased,
But ready to depart.
Just like a prisoner relieved,
With light and joyful heart.
You'll ne're on British Tommy sit,
You need not blush with shame.
When asked if you have done your bit,
Just give your Regiment's name.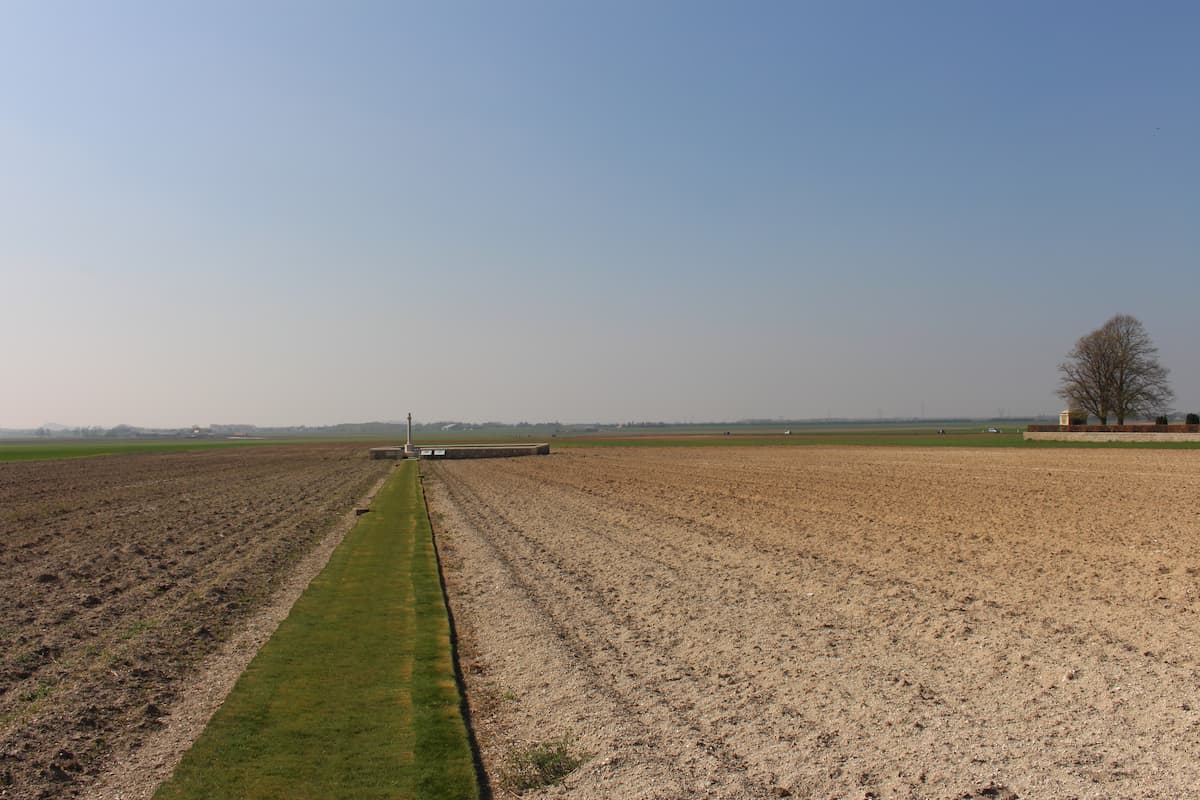 Life in the trenches was a cold, wet, dirty and nerve-wracking experience, so the general routine was for the Battalion to spend five days in the front line, then five days in close reserve followed by five days at rest, a few miles behind the front lines. Whilst in the front line, most activity took place during the night, under the cover of darkness with a 'stand to' at dawn and dusk – these being the most likely times for the enemy to carry out a trench raid.
At least one man in four at night, and slightly fewer by day, were posted as sentries on look-out duty, often in saps dug a little way ahead of the main fire trench. They would listen for sounds that might indicate enemy activity, and try to observe such activity across no man's land. The rest of the section would be assigned to carrying out repairs within the trench, or sent under cover of dark to shore up the barbed wire defences. During the months prior to the Battle of Loos, Private Macgregor would have experienced several rotations to the front line and seen plenty to inspire him to write the 22 verses of his poem.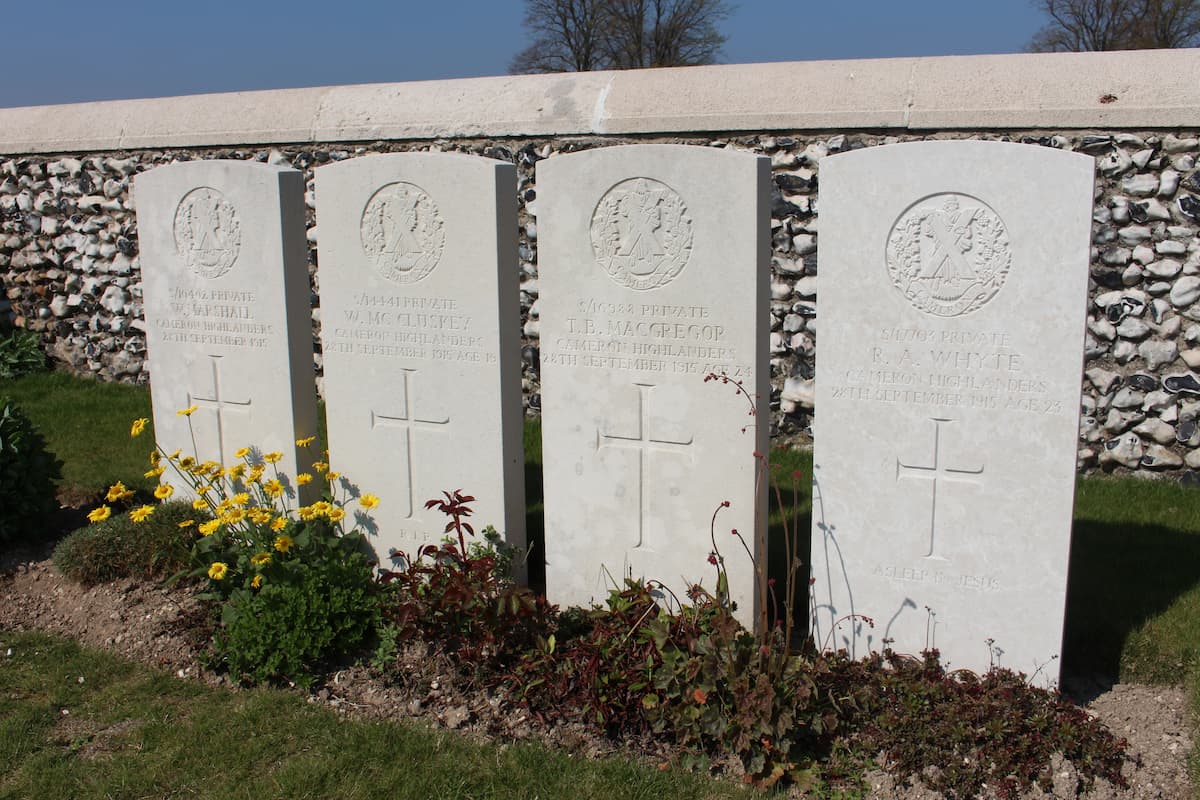 The 1st Battalion Cameron Highlanders was part of the original British Expeditionary Force deployed to France after the outbreak of WWI. As part of the 1st Division, the Battalion fought at Mons, the Marne and the First Battle of Ypres in the autumn of 1914. After taking part in the Battle of Aubers Ridge in May 1915, the Division was deployed to the Loos sector in preparation for the British offensive in September.
The Battle of Loos commenced on 25th September 1915 and this account of the 1st Cameron Highlanders is given in the Battalion war diary:
"At 5.30 am on 25th September 1915, the 1st Brigade in conjunction with other troops was ordered to assault the front German trench lines immediately south of the Hulloch-Vermelles road. The immediate assault of the 1st Brigade was carried out by the 8th Berks and 10th Gloucesters, supported by the 1st Cameron Highlanders, who followed in two lines at a short interval, 2 Companies in each.

These three battalions carried the first two lines of trenches, and the Camerons, acting on previously issued orders, passed through the two leading battalions and continued the assault through the enemy's third line and finally reached the position on the western outskirts of Hulloch village. At one time several men of the Cameron Highlanders were actually in Hulloch Village and found it practically deserted and the enemy remaining out at the further side. Owing however to the lack of immediate support the village could not be held and the final position occupied was some 500 yards on the west side of it, where they were later joined by parties from various Regiments, including those of other Brigades and Divisions. There undoubtedly was, for an appreciable period, a gap in the enemy's defences, but the necessary troops to force their way through were not at hand.

During the operations two Field Guns, with ammunition, were captured by the Battalion. 3 machine guns were also taken, one being undamaged".
The Battalion lost 17 Officers and 369 men, killed, missing or wounded during this initial phase of the battle, reducing it to a strength of only 4 officers and 200 men. Private Macgregor was mortally wounded during the attack and died on 28th September 1915. He is buried alongside 41 comrades from the battalion at the Ninth Avenue Cemetery near Loos, named after a trench captured by the 1st Division on the first day of the battle.
By Craig Durham, The Highlanders Museum (Queen's Own Highlanders Collection) Volunteer
ENJOYED READING THIS BLOG POST? DISCOVER EVEN MORE AMAZING STORIES…