To Scotland in Flanders
A poem by Zem Zem
Oosthove Farm, where this poem was written, straddles the French/Belgium border approximately 50km south east of Dunkirk. The Battalion HQ moved there in December 1915, shortly after Lieutenant Ferguson had joined, with the men billeted in huts around the farm. To the north east of Oosthove lies Ploegsteert, or Plug Street as the British soldiers referred to it, and the wood that bears its name was just behind the front line and criss-crossed with support and communication trenches. To the south lies Armentieres, which had experienced fierce fighting in October 1914 as the Allies and Germans had each tried to outflank the other in the so-called race to the sea. By April 1916 the front line had solidified just to the east of the town that 'sleeps on the brink of hell'.
The 9th Battalion stayed at Oosthove for five months until May 1916, allowing time to settle in and witness the coming of spring. The work undertaken was typical of a Pioneer battalion: repairing trenches, building shelters and securing ammunition dumps. Although the 'fields new greened with springing corn' and 'skylarks, hung in air, awake the morn' hint at a relatively quiet period, during April alone the battalion suffered two men killed and 18 wounded, keeping Lt. Ferguson busy in his role as Medical Officer.
By Craig Durham, The Highlanders' Museum (Queen's Own Highlanders Collection) Volunteer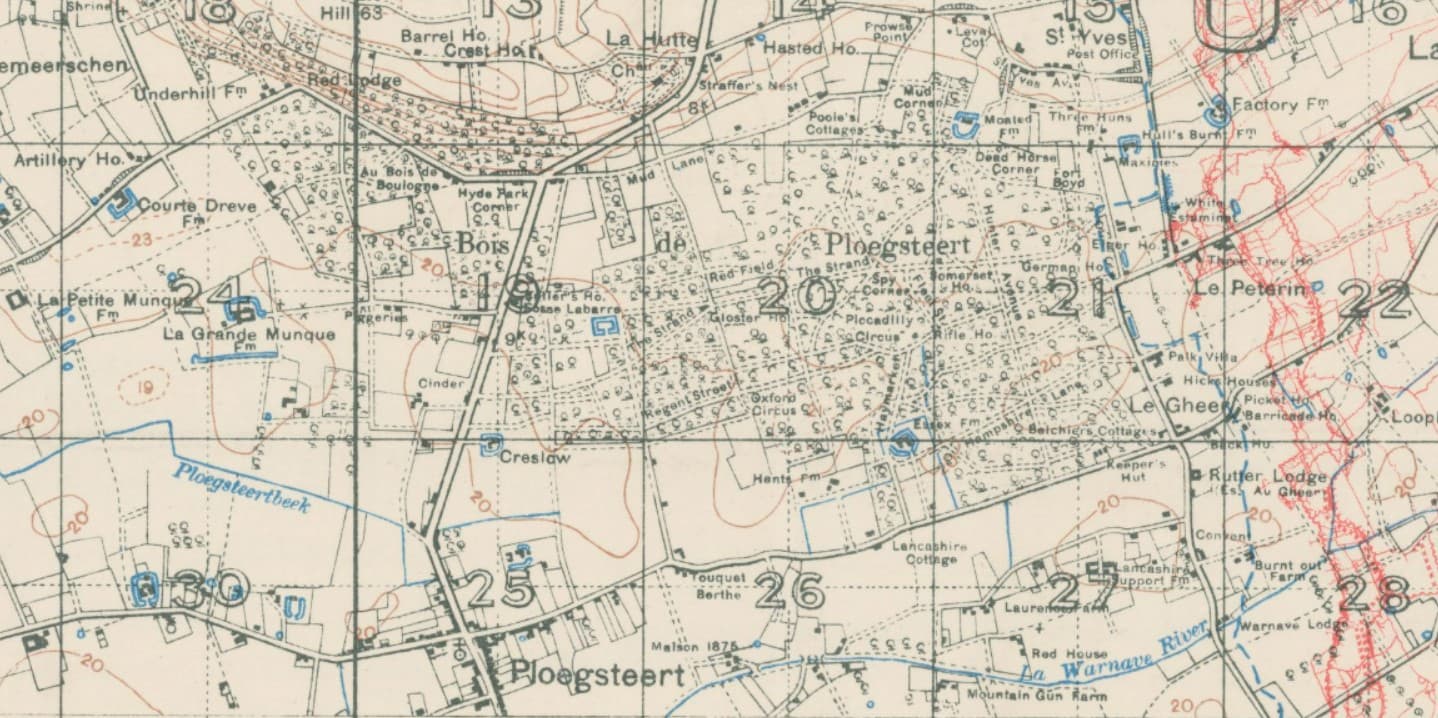 To Scotland in Flanders
From Plug Street Wood burgeoned with bursting leaves,
Over the fields new greened with springing corn,
Never perhaps to stand in serried sheaves,
Where skylarks, hung in air, awake the morn,
Past wrecked le Bizet's cross roads, shrapnel torn,
Where lumbers through the air the strident shell,
To where with silent streets and squares forlorn,
Armentieres sleeps on the brink of Hell,
Fair Scotland's sone uphold in stalwart pride,
An Empire's honour 'gainst a tyrants might,
And in their strength will hold the raging tide,
That rose o'er Flanders, till it ebbs in flight.
Oh khaki bonnet, and oh Highland hand
Hedge and protect this sadly stricken land!
Zem Zem, Oosthove Farm, April 1916
ENJOYED READING THIS BLOG POST? DISCOVER EVEN MORE AMAZING STORIES…